NIKE X AMBUSH | One of best cross-brand joint ventures of 2018
On Nov. 12, 2018, the current Ambush designer and director of jewelry design at Dior, Yoon posted the picture on his personal Instagram announcing that after a year and a half of work, Nike x Ambush's collaboration has finally arrived at the advertising stage, and the grass-green faux fur jacket with a giant Swoosh background has surpassed many people's expectations.
The next day, Yoon released a selfie in the fur coat, announcing that the Nike x Ambush partnership had been scheduled for release in the first week of December.
Nike has officially unveiled its AMBUSH series with the Japanese fashion brand, immediately after the launch of first designer`s work.
In this collaboration, Yoon has reinterpreted classic Nike sportswear using extraordinary Tokyo style design concept.
Yoon uses streamlined reflective lines to create the edgy feel of a racing suit, another item is a two-way blazer is a combination of wool and a piece of metal foil preventing the tear of nylon in the jacket. In addition to the collection, there are reinvented Dry-Fit Stretch tights, tight tops and suede sweatpants and lavish leather jacket, exposed in the initial preview, adorned with a giant Swoosh on the back.
In addition to a green fur jacket, decorated with a large Swoosh and a T-Shirt decorated with 3M reflective logo and sweatpants, Designer Yoon also exposed the AMBUSH and Nike joint-venture shoe model on Instagram. The parties selected Air Max 180 as their prototype, and the images shared by Yoon can be seen here. This classic shoe style will be given a white boot structure with black zippers, and joint logos will appear on the orange insole.
Yoon says it's her first pair of sneakers she`s bought with his own money, and he's designed it using another classic pair Air Zoom Flight「The Glove. She`s took inspiration from and lift Air Max 180 to a whole new latitude.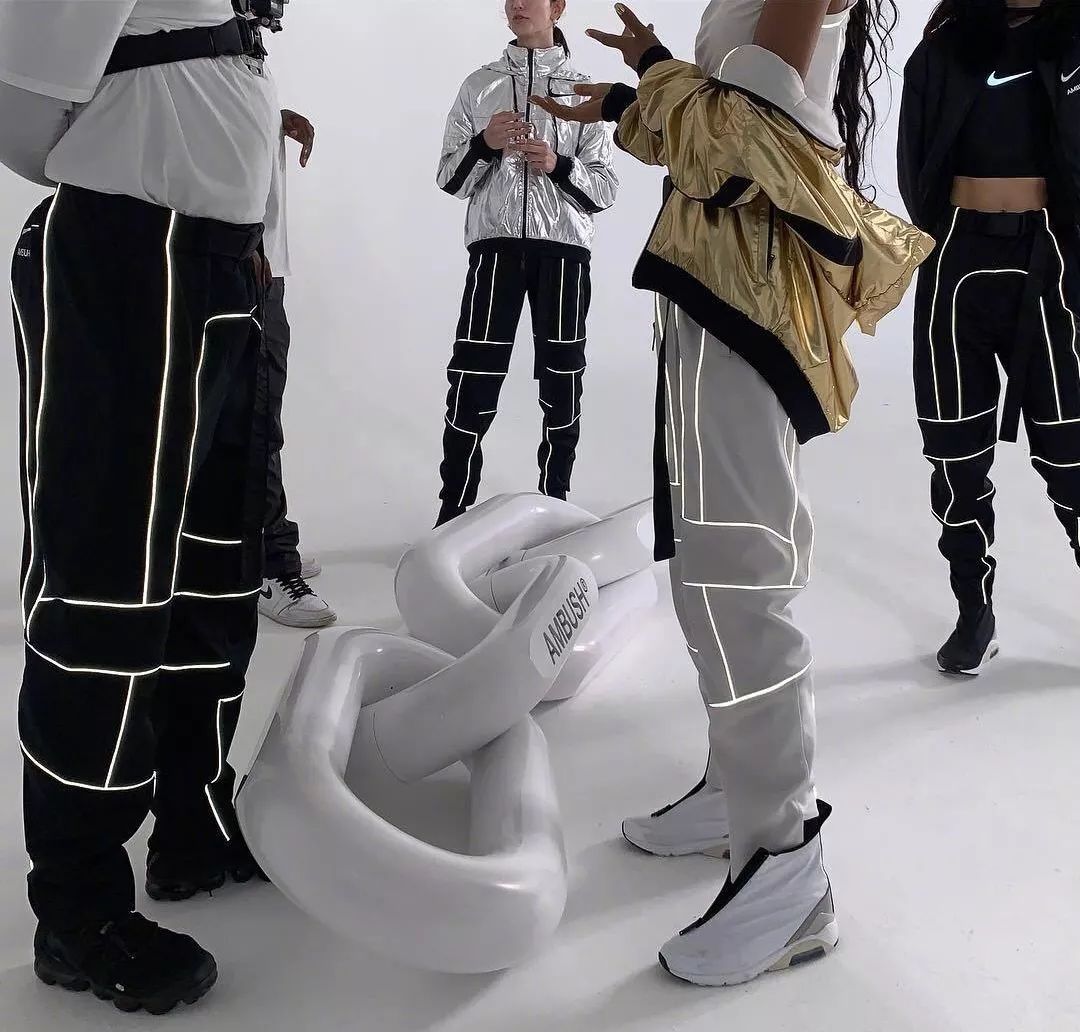 Nike x Ambush collab was our last gift at the end of 2018. Yonn's futuristic, fluid Tokyo fashion design is perfectly combined with Nike's athleticism. While safeguarding the expression of fashion, it also preserves a well-dressed and relaxed sporting atmosphere, and is definitely one of the most successful cross-brand joint ventures of 2018.